Sitting together in a cozy living room, sharing the burdens of our hearts. We meet twice a month to share time and conversation. Stepping into my friend's living room feels like a cleansing breath. Real life friendships — safe, supportive, encouraging. This is what community feels like.
It doesn't matter who you are or where you live,
(In)courage
wants you to experience a local, real community of your own.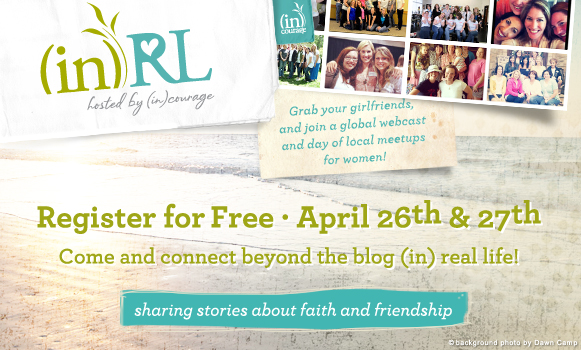 On
Friday, April 26th and Saturday, April 27th
, (In)courage is hosting a free conference for women called
(in)RL
(as in the social media acronym "in real life").
This year's conference will explore what it takes to
stay rooted in community when sometimes just walking away would be easier
and more convenient. During this two-day web-conference, women will share stories of how they've chosen to stay through hard marriages, challenging parenting, and worthwhile friendships. And how
choosing to stay has freed them
more fully and unexpectedly than if they had left.
So what are you waiting for?
Registration opens today, January 14th.
Invite your friends. Join a meet-up group in your area or host your own. On Friday night, April 26th, you'll join other (in)RL friends for a global webcast. And on Saturday, April 27th, you'll meet-up locally for a time of fellowship and fun, in addition to watching (in)RL webcasts together.
If you
register
today, January 14th, you will receive some special free gifts. If that's not enough, here's another trailer you might want to watch: